Bailey Exclusive offers Champagne Balloons rides for two-four people creating memories that will last forever.
Bailey Exclusive has balloon rides designed for couples and small groups. You will be a private exclusive basket for your balloon ride for the two or four of you (plus pilot!). All flights include a flight for about an hour with the whole experience taking 3-4 hours and a bottle of Champagne – you can even help with the setting up and packing the balloon away! We will bring you back to the launch site after the flight. Flights take place early morning and early evening when the winds are most suitable for ballooning and are weather dependent.
Exclusive Flights for 2-4 people Bristol Balloon Fiesta 8-11th 2024
Fly with Bailey Exclusive at the Bristol Balloon Fiesta with up to 100 balloons. The Bristol Balloon Fiesta is a spectacle best to be seen from the sky with many other coloured balloons flying along with you!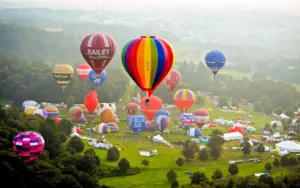 Balloon flight over Bristol
Enjoy a 3-4 hour ballooning experience for two with Bailey Exclusive. You can even help prepare the balloon for take-off and after a pilot's briefing you will share an hour-long flight, peacefully drifting above the treetops taking in the spectacular views. On landing, you will enjoy a glass of chilled champagne to celebrate your return to earth. It is easy to book your balloon ride for two by booking online .
Spoil them with a Champagne balloon ride, an experience the two of you will remember forever and talk about for years to come. Bailey Exclusive Champagne balloon flights for 2 launch from Bristol, Bath and South Wales.
Other launch sites can be arranged for exclusive or group flights. Just let us know what you would like and we can organise for you!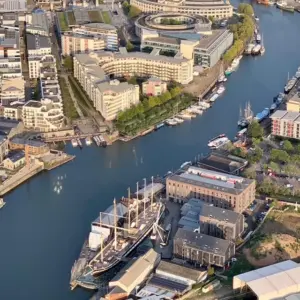 Balloon flight over Bath & Tintern Abbey
Our balloon flights for two in Bristol launch from Ashton Court, taking in Bristol historic landmarks such as the Avon Gorge, Brunel's Clifton Suspension Bridge, Wills Memorial Building, the Bristol Harbourside with the fantastic SS Great Britain Cabot's Tower, Temple Meads Station or you may glimpse the stunning Bristol Cathedral or Redcliffe Church.
Our balloon rides for two in Bath launch from Royal Victoria Park in Bath flying over the amazing Georgian architecture of the Roman Baths, the Royal Crescent and the Pump House.
Bailey Exclusive also offer balloon rides for 2 from South Wales taking off from from Llanarth, near Abergavenny and Monmouth flying over the wonderful Brecon Beacons and the Usk and Wye Valleys. You may even see Tintern Abbey from above!